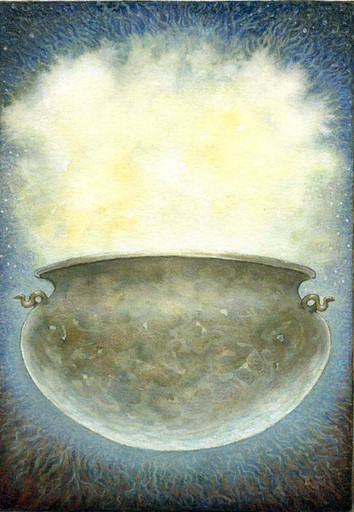 Since 1989 I have illustrated about 50 children's books for various publishers and various authors. The illustrations are made in watercolour combined with coloured pencil or in pen and (washed) black ink.
When illustrating, I consider myself as a performing artist, I try to represent the author's story as well and comprehensible as possible for children, with an emphasis on the details. In 2004 I finished a big assignment: 54 illustrations for 'The fate of the Princes of Dyfed' by the Welsh author Kenneth Morris. The English version of this book was first published in 1914. It is a beautiful epic story with lots of mythical Celtic elements based on the myth of Pwyll pen Anwn and his princess Rhianon from the 12th century Welsh epic 'Mabinogion'.
The principal character Pwyll is the mortal who wins a goddess for a wife, but to keep her, his courage, endurance, modesty and insight are continuously tested by the Gods. This book tells us about the universal search of man for his/her innermost self, the anima, and the struggle to reach it.
The English version (without my illustrations) can be found on www.theosociety.org/pasadena/dyfed/fates